Are you looking for ways to plan ahead for Christmas? Most years we over-commit and become overwhelmed preparing for Christmas. We often spend too much time rushing around, get overwhelmed by all of the decisions that we have to make, and can barely make a dent in our never-ending to-do list. If you are looking for ways to plan ahead for Christmas this year, this post is for you.
As an Amazon Associate and member of other affiliate programs, I earn a small commission from qualifying purchases when you click links in this post, at no cost to you.
Get your Calendar Ready
Sit down as a family and decide how busy you want to be during the holidays. Add any events, travel plans, or commitments to your calendar.
Ask yourself these questions:
How many nights or weekends do you want to be away from home?
What do you enjoy the most at Christmas?
What do you find the most stressful?
Are there any past Christmas events or activities that you just don't enjoy anymore or can live without?
Look at your calendar and see what you have time for. Be sure to leave some blank spaces on your calendar so you can rest and enjoy time with your family at home.
Keep your list of events and commitments short. It's much easier to add in a dinner out, concert, or holiday party than it is to have to cancel plans you've made.
Prioritize family traditions that are meaningful and allow you to spend time with close family and friends. It's okay to decide what traditions are most meaningful for your family and ditch the rest. 
Remember you do not need to do the same thing every year. While having traditions is important that doesn't mean you can't mix it up and do something new. Try something new if you're feeling like you need a change.
If you want one place for all of your holiday plans you can pick up my Holiday Planner on Amazon. Or if you prefer a digital copy that you can print at home check out my digital option in my shop here.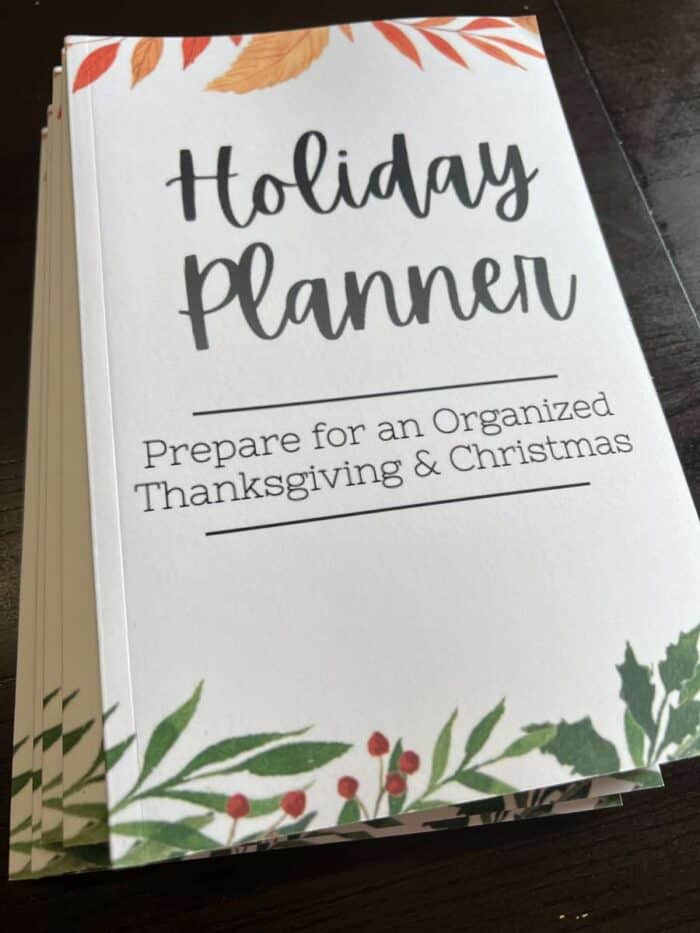 NOW AVAILABLE ON AMAZON!
Order your Advent Calendars Now
If you like to do something special for Advent you'll want to plan ahead. If you purchase Advent Calendars for your children or maybe you want to buy a special advent calendar for a friend or family member. Don't wait too long or all of the good options will sell out! Check out my post: Advent Calendars for the whole family.
Simplify your Gift Giving – and Set a Budget!
Ask yourself these questions:
Set a budget for your Christmas gift-giving. Don't forget to budget for wrapping paper, cards, etc.
How many gifts would you like to give each child in your family? Have you considered giving just 4 gifts?
Are you buying gifts for aunts, uncles, grandparents, or cousins?
What about neighbor gifts?
How many teacher gifts do you want to give?
Do you like to give gifts or bring in treats for coworkers?
Do you have any parties on your calendar that you will need to bring a white elephant gift or hostess gift to?
Would you like to give donations to any organizations or families in need?
Is there someone you can surprise this year with an anonymous gift?
Once you know how you want to handle gift giving you will be able to plan. If you go into the holidays without a plan for gift-giving you'll find yourself buying too much and feeling overwhelmed.
Tips for Gift Giving:
Instead of buying multiple small gifts for one person, maybe chip in with other friends or family members and purchase one bigger gift that the recipient will love!
Buy multipacks and split them up among several people. I love to do this for stocking stuffers and it works great when you're putting together a small gift basket. This is also a great way to buy affordable teacher or neighbor gifts.
Give a family gift instead of individual gifts – One year the kids got an Xbox which they share, then we were able to do only a few other things.
Plan a family vacation instead of gifts (we still do stockings for fun!) We'll be doing this next year!
Buy gift cards in bulk for a discount! Places like Costco, Sam's Club, and other big box stores offer packs of gift cards at a lower price.
Send digital gift cards. Who doesn't love a gift card? You can purchase digital gift cards and have them emailed to your recipient. Some of my favorite digital gifts are Amazon Prime Membership, Audible for audiobooks, Starbucks, iTunes, etc.
Have gifts delivered straight to their home

You save on packaging, wrapping, and postage.
Some of my favorite gifts to have shipped are fruit baskets or flowers. Baked items from a specialty bakery like Crumble Cookies, Seven Sister's Scones, or Wildgrain also make thoughtful gifts. Sending someone a box of wine from companies like First Leaf Wine Club be very nice.
Many companies will even gift wrap your item before sending it.

Do a Secret Santa. If you have a large extended family and it's not possible to buy a gift for everyone, try picking names and arrange a "secret Santa". It's a great way to really cut down on the cost and keeping it a secret is fun too! We usually do this at Thanksgiving and each person provides a wishlist, which is super helpful.
Shopping for teens? Cash is KING! If cash is too boring you might want to try to put together a gift card basket. Pick up several smaller gift cards to places they might love. For example

iTunes
Coffee Shops
Fast food
Gas Stations if you have a driving teen
Car Washes
Nail Salon
Hair Salon
Book store
Clothing store
Shoe store
Dollar tree
Restaurant they love
Amazon.com
Movie Theater
Game Store
Trampoline park
Amusement park
Mini Golf
Xbox, Playstation, Nintendo
Theater
Music Venue (or TicketMaster)
Target, Walmart, etc.
Goodwill – My teen loves to go thrifting
Any shop, website, or restaurant that your teen loves.
Start Collecting Christmas Gift Ideas and Start Shopping!
If you're stuck and don't know what gift to get take a look at my gift guides and see if you find any great gift ideas:
Holiday Baking and Entertaining Prep Tips
Planning and serving delicious holiday meals is a highlight for many families at Christmas time. For some, it's also one of the most overwhelming tasks.
Below are some ways you can simplify your Christmas food prep, so you have more time to enjoy with your family.
Prep recipe ingredients ahead of time. Cut up veggies and precook any ingredients that can be frozen
Pre-portion recipe ingredients – Measure out recipes and make baggies for each recipe. You might want to create 2 baggies for cookie recipes. One baggie would have any dry items that you will be mixing with butter or oil (like sugar and brown sugar). The other bag will have your other dry ingredients like flour, baking soda/powder, salt, etc. Making these ahead of time will save you heaps of time. You can throw these bags in the freezer to keep them fresh longer.
Order your desserts instead of baking – While I love to bake delicious pies (we love hosting our annual pie party!) sometimes you just need a shortcut. One of our favorites is Costco's pumpkin pie – you can't beat the price!
Delegate – have other family members or friends help by bringing a side dish or dessert
Use paper products – While paper products aren't great to use every day they are perfect for larger family dinners. You can find really nice disposable plates and plasticware to help with clean up. See my favorites here: plates, drink cups, champagne flutes, wine glasses, plasticware, and serving trays.
Have go-to nice entertaining meals. Instead of planning a different menu every time you have guests over, pick your favorite 1-2 meals that you will make when you have guests over. This allows you to keep the ingredients on hand (or in the freezer) so you have everything you need! (or almost everything). For years mine was pot roast (easy to make in the crockpot), homemade mashed potatoes, and roasted veggies.
Order from a meal prep service. You might want to do this for many reasons. Maybe it would be nice to have meals delivered after a weekend of entertaining. We like to do this when we're traveling, I usually order a box from Home Chef and have it delivered the Monday after our vacation so I don't have to run out and get groceries or have to create a meal plan. If you want to try out a meal prep service, you can get 50% off your first 4 boxes from Home Chef when you use this link.
Plan easy meals for the week before Christmas. By planning simple recipes you won't spend extra time in the kitchen when you are trying to wrap presents, run errands, or spend time with your family. This is a great week to treat your family to a pizza night, frozen lasagne, breakfast for dinner, or other simple meals. My baked oatmeal and sausage lentil skillet recipe are freezer-friendly
Fill Up Your Freezer
Don't forget that during this busy season, your family still needs to eat every day. Stocking up your freezer now so that you are ready for the busy weeks is a great idea!
Some of my favorite freezer meals are Honey chicken, lasagna, baked spaghetti, stuffed chicken breasts, cooked taco meat, chicken pot pie, soups, stews, and chilis.
When I have plenty of meals in the freezer I'm able to plan our menu out two weeks at a time. During busy seasons I try to plan 2 freezer meals each week. I also try to include one Crockpot meal each week. Planning this way frees up so much time for our family.
More than just dinner
Don't limit your freezer cooking to dinners.  I like to keep pancakes, waffles, muffins, cookies, brownies, breakfast burritos, rice, black beans, and cooked chopped meats in the freezer. Knowing that I have food ready in the freezer takes the stress out of meal planning during the holidays.
More Christmas Tips
I hope you were able to find a few tips in this article to help you plan ahead and simplify your Christmas this year. If you are looking for more holiday help you can check out the posts below.