When I need a quick and easy dinner I always turn to my Sausage, Lentil, and Rice recipe. This one-pan meal is a family favorite even our 2 picky eaters love it. With a simple ingredient list, I hope you'll love this Sausage, Lentil, and Rice Skillet too.
What makes the Sausage Lentil Skillet Recipe a quick and easy dinner?
When I'm trying new recipes I like to make sure that the meals are easy to make, have very few ingredients and if I can make it in one pan, that's a bonus. This meal meets all of those requirements! This was also one of the first lentil recipes we tried as a family and I was surprised that our whole favorite loved it! This recipe calls for Italian sausage but you can mix it up by adding hot sausage, sage sausage or even ground beef or turkey. We always love to top ours with diced fresh tomatoes and cheese.
I've shared this recipe with almost all of my friends and to this day they send me messages letting me know that they still make it often and love it. I hope you enjoy this meal, it's the perfect weekday dinner to add to your meal plan.
Equipment needed to make Sausage, Lentil and Rice Skillet
Cutting Board – I love these color-coded boards, they don't take up much room and are easy to clean
Tomato Knife – This is not necessary but once you have one it will be hard to live without it. It cuts tomatoes quickly without making a mess.
Skillet pan with lid – One thing I love about this recipe is that it only requires one pan. Be sure yours has a lid, this recipe requires time for the rice and lentils to cook through with a lid on. This pan I
Ingredients you need to make Sausage, Lentil and Rice Skillet
1 pound Italian sausage – You can use loose sausage or sausage links, just be sure to remove the meat from the casing first.
1 onion chopped – I like to use a Vidalia onion in this recipe
1 green bell pepper chopped – You can substitute a red or yellow pepper if you like a sweeter pepper flavor.
3/4 cup dry brown lentils – This recipe uses brown lentils, they are hardy and cook at about the same rate as the rice, which is important so it cooks evenly.
3/4 cup uncooked rice – I prefer white basmati rice but you can use any regular white rice. Do not use minute rice.
2 1/2 cups chicken broth – I have been using this chicken broth concentrate for months and we really love the flavor.
Shredded Mozzarella or Monterey Jack Cheese – You can also use cheddar cheese if you prefer.
Salsa or diced fresh tomatoes – We love to top this sausage and rice recipe with fresh tomatoes, but it is optional.
Looking for more delicious dinner recipes?
How to make this Sausage, Lentil and Rice Skillet Recipe
Step 1: Prepare Sausage and Lentils
If you are using sausage links, remove the sausage from the casing. Set aside.
Rinse and sift through your brown lentils, looking for any stones to remove.
Step 2: Prepare the vegetables
Chop your onions and green peppers. Set aside.
Step 3: Cook your italian sausage
In a large saucepan brown the sausage until it is cooked through. (About 5 minutes)
Drain any excess grease.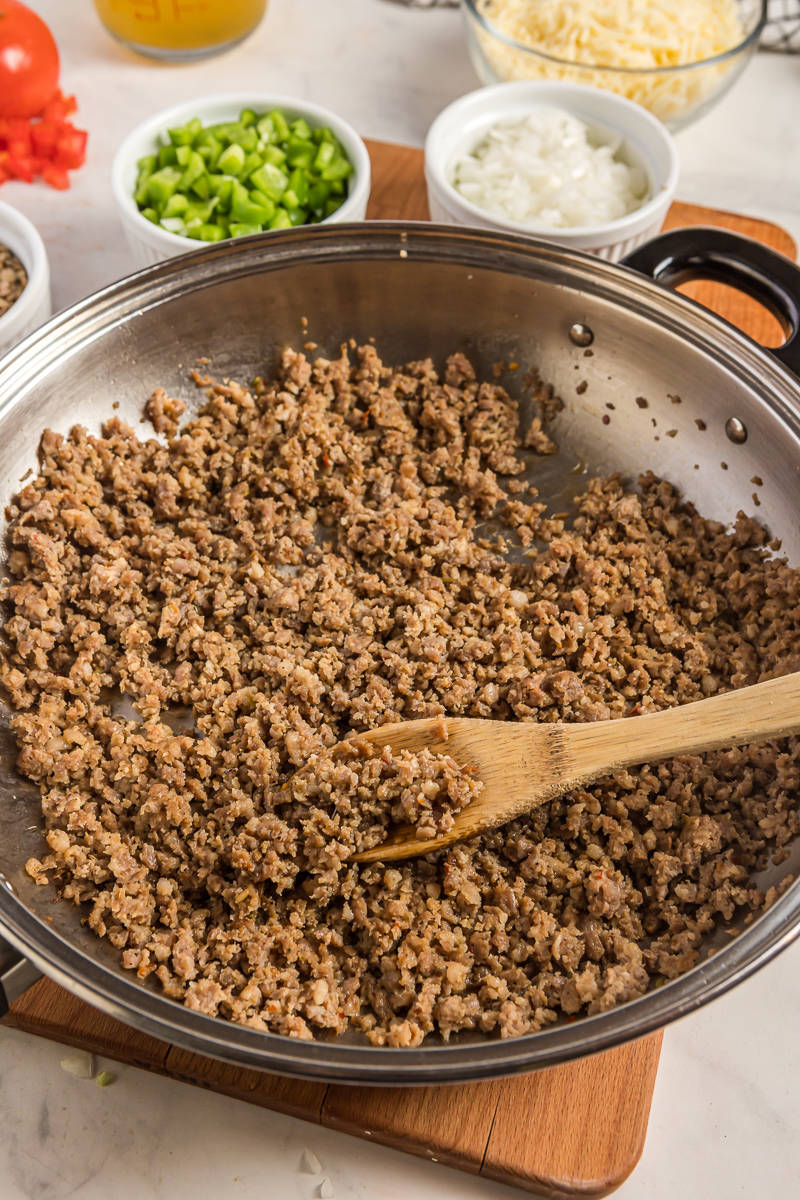 Step 4: Add Onions and Peppers
Add onion and green pepper, and saute until the onions are cooked.
Step 5: Add Lentils, Rice, and Chicken Broth
Stir in the lentils, rice, and chicken broth.
Step 6: Simmer Sausage, Lentils and Rice
Reduce heat, cover, and simmer for 30-40 minutes until rice and lentils are cooked through.
Step 7: Garnish and Serve Sausage, Lentil and Rice Skillet
We like to serve these with Monterey jack cheese and fresh diced tomatoes or salsa on top.
Sausage, Lentil and Rice Skillet Recipe
Sausage, Lentil and Rice Skillet
This is a fast and easy one-pan recipe for busy nights. Italian Sausage mixed with brown lentils and rice create a delicious and hearty meal that your whole family will love!
Ingredients
1

pound

Italian sausage

Loose – or removed from casings

1

Onion

Chopped

1

Green bell pepper

Chopped

3/4

cup

Dry brown lentils

3/4

cup

Uncooked rice

2 1/2

cups

Chicken broth

Shredded Mozarella or Monterey Jack Cheese

Salsa or diced fresh tomatoes
Instructions
In a large saucepan brown the sausage until it is cooked through.

Add onion and green pepper, and saute until the onions are cooked.

Stir in the lentils, rice and chicken broth.

Reduce heat, cover, and simmer for 30-35 minutes.

We like to serve these with monterey jack cheese and fresh diced tomatoes or salsa
Nutrition