We did it, we made it through one of the busiest months. Our September was full of birthday celebrations and back-to-school prep. Now that we're in October I can look forward to the holidays around the corner and start adding my favorite comfort foods into our monthly menu.
Last month I updated my Monthly Meal Planning Workbook. It has several new printable meal planning worksheets and a new cleaner design. You can find out all about the workbook here: Monthly Meal Planning Workbook.
Keeping our Breakfasts and Lunches simple
I'm in a stage where I don't need to plan much for breakfasts and lunches. Our children are 12 and 14 and are pretty independent with these meals. I just make sure we have basic supplies on hand so they can help themselves. In the summer I need to really keep some extra food on hand, especially for the 12-year-old; he is growing so fast and eats 5 meals a day!
We like to keep breakfast basics on hand like eggs, toast, pancake mix, oatmeal, cereal, yogurt, and berries.
Hot breakfast meals I like to make occasionally:
Lunch basics we keep on hand:
During the school year, the kids eat at school and I use ideas from my School Lunch Idea List HERE.
I do keep some basic lunch items on hand like lunchmeat, cheeses, bread or wraps, chicken salad, tuna salad, hardboiled eggs, soups, and frozen pizzas.
September Meal Plan
Taco Salad
Honey Chicken with Broccoli
Spaghetti with meatballs, salad, and garlic bread
Chicken Sausage with potatoes and roasted broccoli
Rice Bowls with black beans
Pork tenderloin with rice and corn
Chili with corn bread
Baked potato bar with leftover chili
Beef tips with mashed potatoes
Etoufee over rice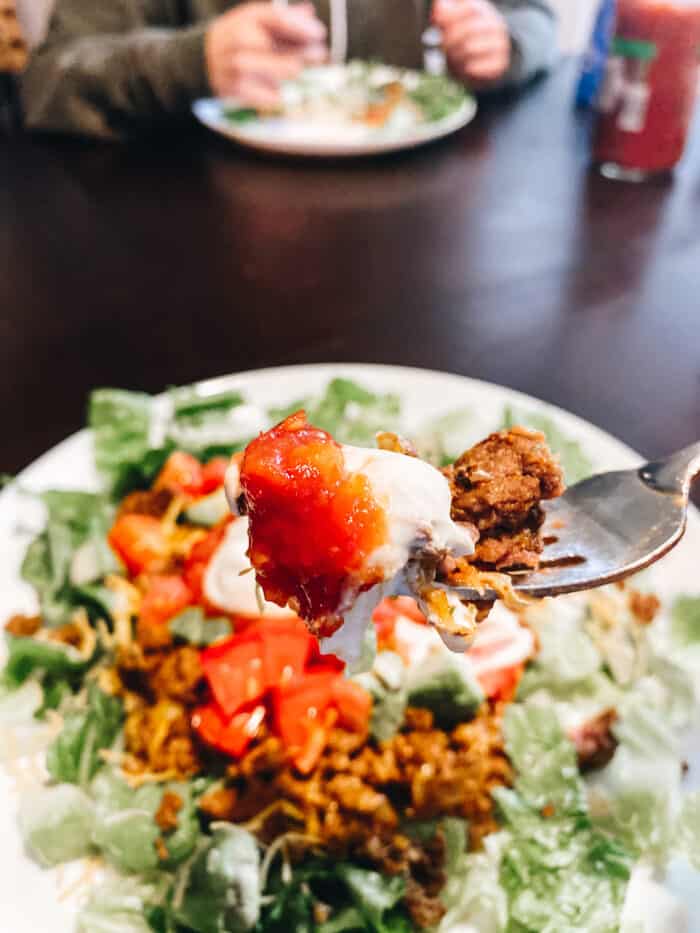 Sheet pan fajitas with rice
Spaghetti with broccoli and garlic bread
Creamy chicken broccoli casserole
Pulled Pork sanwiches (save left over pork for Brunswick stew)
Ham and potato Soup
Night 1 Cabin trip
Night 2 Cabin trip
Pizza Nights 3x
Date Night
Left over nights 4x
Dinner with family 2x
If you are looking for more Meal Planning Inspiration you can see all of my Monthly meal plans here.