Free Printable Chore Chart for Kids – This printable was my most requested printable this year. Use this chore chart to help you manage your kid's chores, encourage independence, and teach them how to do important tasks around the house. Print one chore chart out for each child and get started!
As an Amazon Associate and member of other affiliate programs, I earn a small commission from qualifying purchases at no cost to you.
Managing a home is a lot of work. Enlisting the help of your children is easier than you might think. One of the keys to success is using a chore chart to track chores every day. Even your young children will enjoy checking off their chores each day.
This printable chore chart for kids has plenty of space to write out daily chores. Each child can have their own sheet. You can even use this to track your kid's morning routines or bedtime routines by adding those tasks to the list.
This simple chore chart will help children be independent because it allows them to check the chart each day and mark off their progress. The more comfortable they get doing their chores the more independent they become.
Tracking progress and giving rewards
Some parents decide to pay their children an allowance or commission each week if they complete their chores. Using a chore chart will help you to easily track this as well. You could also have chores that are expected to be done each week with no payment, but other special chores might earn a commission. For example, making a bed is expected, vacuuming the car weekly might be an extra paid chore.
Print weekly or reuse
This printable chore chart for kids can be printed each week or you can print one copy for each child and laminate it or use a page protector to reuse each week by using a wet or dry eraser.
Get your free printable chore chart for kids below:
You should receive your link(s) via e-mail within the hour. Be sure you check your SPAM or Promotions folder if you're not finding the e-mail. If, after an hour, you have not received your link, please contact me and I'll help you figure out what happened.
The fine print:
For personal use only. Please do not reproduce or redistribute without written permission. Classroom use is permitted.
Older Children? Try my Chore Cards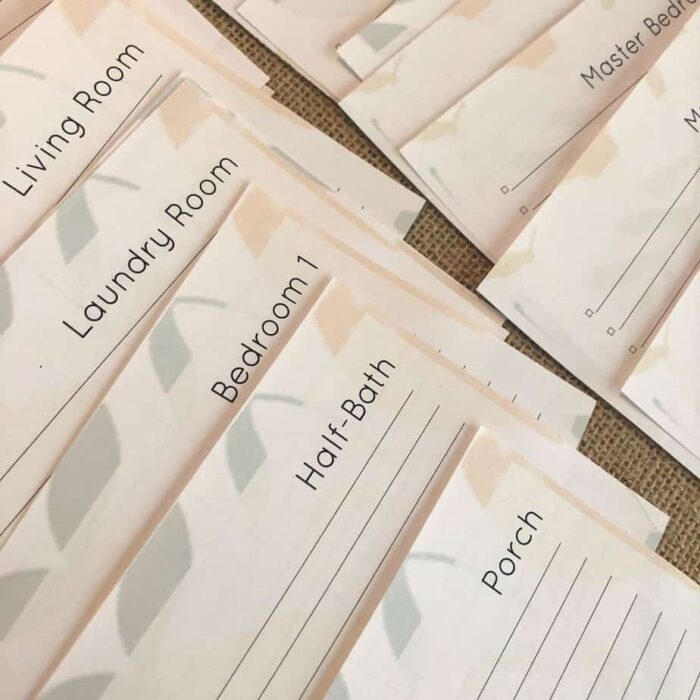 Do you have older, more independent children? You might be interested in my printable chore cards. These cards are a great tool to help teach your children how to properly clean each room in the house. Read the Chore Cards post here.