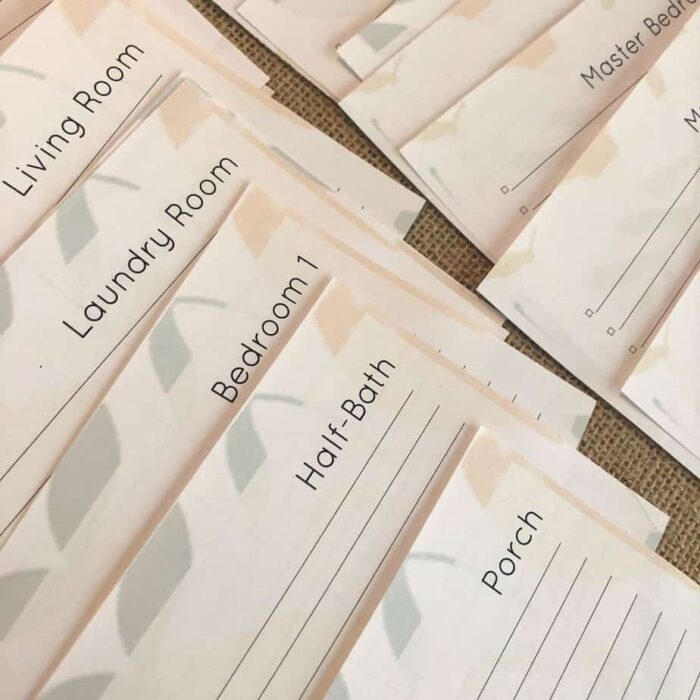 Summer is just a few weeks away and I'm in a frenzy trying to figure out how I'll continue to work full-time while my children are home. This year my business has grown in so many great ways, but it's going to take a group effort to make it work. Last year we implemented a new system for our summer chores using chore cards and it worked out great!

Let the kids chip in.
When I took a look at my long to-do list I tried to find ways that I could enlist the help of my kiddos. One easy way was for them to chip in each day with household chores. There is absolutely no reason my 10 & 12-year-old can't help out around the house more.
But they're just kids and summer should be fun and…
Yes. They are children. Summer is fun and having my children do chores each day is not a punishment. I feel like one of my greatest callings as a mother is to raise self-aware, kind, helpful and loving children. There are 4 humans living in this house and every single one can help.
See the need and do it.
My mother-in-law has this great saying: "See the need and do it."
See a sock on the ground? Pick it up and put it away.
Notice that the counter is messy? Take 1 minute and wipe it down.
See that your sister is feeling really sad today, take the time to do something to bless her.
See that your wife is absolutely overwhelmed, call and order some take-out.
It's a great reminder that we are all capable of putting others first and it doesn't have to cost us a thing. Being thoughtful and helpful usually only requires a few minutes of our time.
So yes, while they are still children, it is summer, and they want to have fun; they should also be expected to be helpful human beings. By having our children help with chores (yes, even cleaning the toilet-heck, it's their mess too!) we are doing more than just teaching them how to clean. We are instilling in them a sense of self-responsibility, respect for others, thoughtfulness, and good, strong work ethics. We are breaking down entitlement too!
So how did we teach our children to do their chores?
First up – it took a big commitment of time and energy. I had to work with each of them and oversee them as they learned how to properly wipe down the counters, clean the toilets and wash the floors. I had to show my 10-year-old the trick to putting fitted sheets on his bed and encourage my 12-year old that putting away her brother's shoes was an act of kindness, not a punishment. It took a few weeks but once they had an understanding of each step something really cool happened.
They took pride in their work. They cared about the area that they just cleaned. They were much less likely to leave their stuff laying around and they reminded each other to clean up their stuff. Instead of finding toothpaste marks on the bathroom mirrors, I would often find smears of almost-wiped-off toothpaste on the mirrors (hey, at least they were trying to clean up after themselves.)
Let go of your expectations and be patient
The biggest challenge for me was letting go of my high expectations and letting them learn little-by-little. Yes, I still had to go behind them and clean up things they have missed, but this wasn't a spring – I was in this for the marathon – the long haul. I was coaching them so that as they grew their skills improved more and more and they became more and more independent.
I remember waking up a day last summer. I went to bed not feeling well and woke up later than usual. I opened my bedroom door and went into the bathroom – I was startled to see my 10-year-old son kneeling on the counter washing the bathroom mirror (at 7:15 am!). He took initiative and started doing his chores right after he woke up. He was learning to take his responsibilities seriously.
Organizing chores by room.
I created chore cards by room. There is one card per room or area in our house. We live in a very modest townhouse so there aren't many spaces to clean. You can start with just a few rooms and add more as your children become more confident.
We have a card for the foyer, living room, kitchen, bedroom, master bath, and half-bath. You may need more, depending on the size of your home. Because all houses are different I have a few sheets with different rooms printed, there is a sheet of blank chore cards that you can print to make your own.
Use blank cards for "mom's choice" chores
These blank cards are especially useful if you have children at home that just need one or two tasks to do. Little ones might not be ready for a whole room, but it's still great to include them and teach them how to help at a young age. Another great use for the blank chore cards is to have a "Mom's Choice" card. If you laminate the cards you can simply write "Mom's Choice" at the top with a dry (or wet) erase marker and then write down any chore that you would like them to do. Some ideas would be:
Empty the kitchen garbage
Vacuum the car
Vacuum the stairs
Water the plants
Help with dinner
Attach a reward or privilege to chores
One way we make these cards work is by adding an incentive for doing the chores. We have a big rule that screen time is only allowed after chores were done for the day! Now that's motivation!
↓ Fill out the form below to download your chore cards↓
Are you ready to have some help with the chores? Download your chore cards below and start small. Maybe introduce just one card this week and see how your children do. You might be surprised!
One you complete the form below, your Printables will be emailed to you (double check your spam/promotions folder).