Do you have a Food Stockpile? The word "stockpile" has become a bad word recently with people stocking up on toilet paper and hand sanitizer, and emptying shelves in stores nationwide. There is a right way to start a food stockpile without being too extreme. In this article, I'll explain why you should have an emergency food supply and how to get started and stay organized.
** This post and printable were recently updated to a new design. Scroll down to see what's new!
Have you ever started making dinner and realized that you ran out of an ingredient you needed? What would happen if you or your family became ill or injured and couldn't leave the house to go to the store? What if you lost your job or experienced some other financial hardship?
*Updated May 2020* As we are in the middle of a state-wide shutdown I've found that having a stockpile has been a huge blessing. We have plenty of food to last us for several weeks, which has allowed us to really limit our shopping. It's never too late to start your emergency food stockpile.
Having a food stockpile and utilizing a regular inventory could help you in these and other circumstances. By making very simple changes and choices, you can prepare yourself and your family for the unexpected.
What is a Food Stockpile?
A food stockpile is a system that you create and customize to your family's needs to ensure that you have the food and supplies for both daily use and emergencies. Typically these are items that can be kept in dry storage like a pantry or cabinet, or cold storage like a freezer.
Essentially, it is a collection of items that you use or need regularly, stored for use in your home at a later time. For example, you may store canned or boxed foods containing ingredients that are used often or that can be used in multiple ways like pasta, sauces, and beans. In your freezer, you may store meats, vegetables, or even prepared meals.
Why Should You Have an Emergency Food Stockpile?
There are so many reasons that having a food storage system is important.
Job loss

Illness

Financial hardship

Injury

Natural disaster

Family emergency or death

To make meal planning more helpful
How Much Food Should I Stockpile?
It is recommended that you have at least a 72-hour (3-day) supply of food in your storage (source: Ready.gov. This is a good starting point. I think for big emergencies like a flood, hurricane, or big snowstorm, having 3 days of food is a great idea. I like to have much more on hand when possible.
The amount of food you store will vary depending on the number of factors. Some things to consider:
The number of people in your household

The shelf-life of stored items

Frequency of use

The size of your storage area

If you are building up supplies for potential long-term use, the length of time you would like those supplies to last will determine how much you need (ex: 1 month of supplies vs. 6 months)
For example, you may go through cereal quickly but only use canned beans occasionally. So you would likely store more cereal than beans. Additionally, if you're storing your items in a cabinet instead of a pantry, your space would be limited and the number of items stored would naturally be smaller.
I recommend having enough food on hand for at least 1 month. I always think about what we would need if we faced a job loss or illness that limited our income for a month.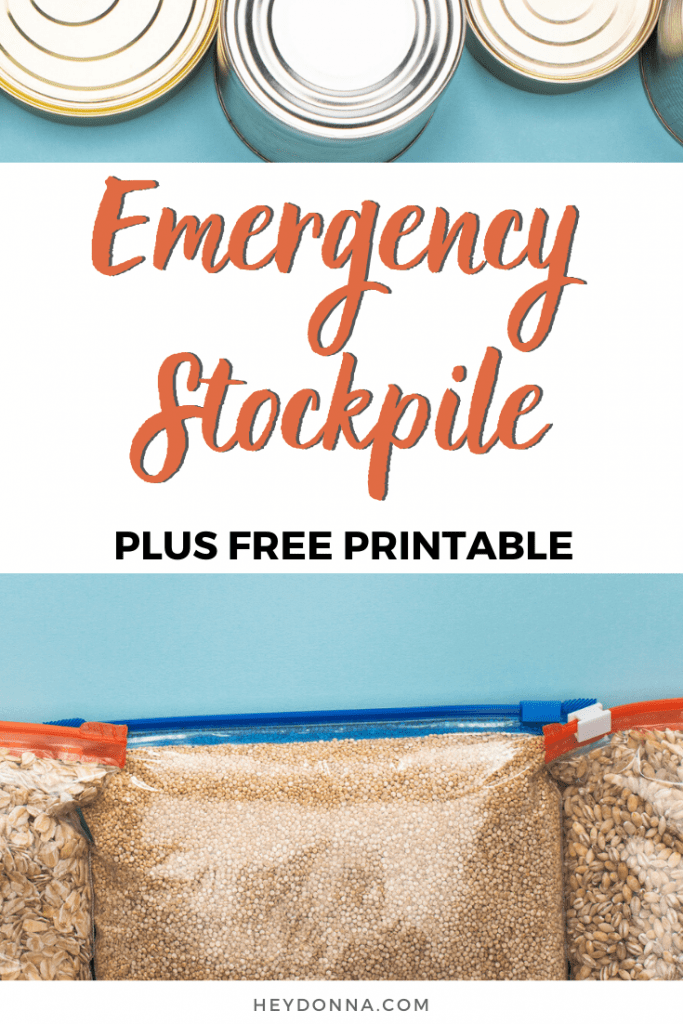 Non-Perishable Foods Stockpile List
Below is a list of shelf-stable items that you should keep on hand.
Canned meats (tuna, chicken, ham)

Vegetables and fruits

Beans

Tomato sauces, diced tomatoes, and pastes

Canned soups and stews

Grains, rice, oats, cereals

Pasta

Condiments – Sauces

Water

Baking supplies – I like to store my bags of flour and sugar in airtight containers like these airtight bins.

Flour, sugar, brown sugar, yeast, baking soda, salt, baking powder

Long-Lasting Snacks – granola bars, cereal bars, crackers, fruit snacks

Boxed, canned, or jarred drinks like Juice/Teas/Coffee

Dry milk (powdered) and powdered coffee creamer

Canned Milk (evaporated, condensed, coconut etc.)

Peanut butter, jelly

Cleaning Supplies
Paper items (paper towels, toilet paper, etc.)
First Aid items (bandaids, medicines, etc.)
Feminine products
Bath and beauty items (soap, shampoo, toothpaste, etc.)
Be sure to keep your shelf-stable food items in a storage area that is dry and cool.
What Should I Include in My Freezer Storage?
Next, let's think about frozen Items. Unless you have an extra freezer you may find that you have less storage for frozen goods so I try hard to keep it to the basics:
Meats

Vegetables

Corn
Broccoli
Green beans
Carrots
Spinach
Mixed Vegetables

Frozen fruits

Strawberries
Blueberries
Mixed Berries

Breads and/or frozen doughs

Freezer meals

Flour (for long term storage)

Yeast (stores better in the freezer and is great for making bread if buying it at the store isn't possible)
How Can I Create a Food Stockpile Without Blowing My Budget?
Thinking about starting a food stockpile might seem overwhelming, but it doesn't need to be.
Make a List:

Once you've decided where to store your items, create a list of items you want to have on hand. Sort those items by type (canned, boxed, frozen, etc.).

Write a list of meals that use pantry and freezer items: We have a list of meals that are very "stockpile friendly" such as our Sausage Lentil Skillet, Banana Bread, Baked Oatmeal and
Watch for Sales:

Now watch for sales and add a few items to your shopping list each time you go.

Create a category in your budget for stockpiling:

Consider budgeting a specific amount each week towards these items ($10-$20). You will have a well-stocked inventory in no time!

Buy a little extra each week: Using any extra money in your budget pick up a can or two to add to your stockpile. These little steps will really add up quickly to build your emergency stockpile.
How Can I Keep Track of My Stockpile?
Keeping track of your emergency stockpile is easy with when you create a Freezer and Pantry Inventory. It's important to track your inventory so you remember to use what you have and rotate your inventory so things don't go bad. Another thing I do with my inventory sheets is I take time to jot down a few meal ideas in the second column so I can plan how I want to use the food. this is especially helpful for me with the items in our freezer.
You will receive a copy of my inventory sheets in your FREE Food Stockpile Pack.
Where Should I Keep My Stockpile Inventory List?
Print out one list for each location (pantry, freezer, etc.) List the relevant items for each storage area. For freezer items, consider placing the list directly on the freezer door with a magnet or on a clipboard nearby for easy access and for making adjustments as items are used. For cabinets, tape the list inside the cabinet door or on the side of the cabinet. The easier these lists are to view and access, the more effective they will be, and the easier it will be to make adjustments.
*Tip: when taking inventory of freezer items, try using a notes app on your phone and using the talk to text option. This will save you lots of time creating your inventory! You also won't have to leave the door open for an extended period of time.
Editable Food Inventory
You can now fill in your Fridge, Pantry, and Freezer Inventories on your computer. Simply open the document in a PDF reader and fill in the worksheet.  
What Food Storage Containers do I need?
Most of your shelf-stable food will store just fine in its original container but you may find that you need extra airtight storage solutions to keep your food fresh longer. Keeping your food cool, dry, and safe from bugs is important when creating an emergency food stockpile. Below are some items that I recommend for your food stockpile.
Start Small – This was the beginning of our stockpile. We started with a small shelf in our basement and have grown from there.
Start a Stockpile and Be Prepared for Difficult Times
I hope you were able to find some easy steps to start building your own emergency food stockpile for your family. Having a food storage system, and keeping an accurate inventory of those items, can play a vital role during difficult times. Knowing that you have the food and supplies you need for an extended period of time can help to give you peace of mind and reassurance. I love to use Monthly Meal Planning so having a stockpile is helpful to make our food last longer and keep our budget in check.
Get your Printable Food Stockpile List and Inventory Sheets
Once you complete the form below, your printables will be emailed to you (double check your spam/promotions folder).
You should receive your file(s) link via e-mail within the hour. Be sure you check your SPAM or Promotions folder if you're not finding the e-mail. If, after an hour, you have not received your link, please contact me and I'll help you figure out what happened.
The fine print:
For personal use only. Please do not reproduce or redistribute without written permission. Classroom use is permitted.