It's not always easy to make sure our children are eating healthy meals. Busy schedules can make it hard to find time to plan, prepare, and cook healthy meals every day. Luckily we were introduced to a meal delivery company that provides ready-to-heat and eat meals that are fresh and healthy. These meals are delivered right to our door every week. Below I'm sharing our review of Nurture Life. There is also a discount code that will save you 50% off your first 2 boxes.
It's no surprise that I love a good meal delivery kit. We have enjoyed them in the past, so when the opportunity came along for our family to partner with Nurture Life and try their new no-prep meals for kids, I was happy to give them a try.
Thank you to Nurture Life for providing meals for us to review. This post contains affiliate links. As a member of affiliate programs, I earn a small commission from qualifying purchases at no cost to you. You will also save 50% off your first 2 orders when you use my discount code: HEYDONNA at checkout.
What is Nurture Life?
Nurture Life is a unique meal delivery company that specializes in fresh, healthy meals for busy families. They offer a wide variety of meals for all ages. These prepared meals are precooked and delivered right to your door every week. Nuture Life focuses on providing truly healthy meals and takes nutrition seriously. With a variety of meals available you are sure to find meals that your children will love, they even have "picky eater" options.
This program helps parents provide healthy meals, even when life is chaotic. Introducing healthy foods to children at a young age will help to create healthy habits in your children while they are still learning what they like.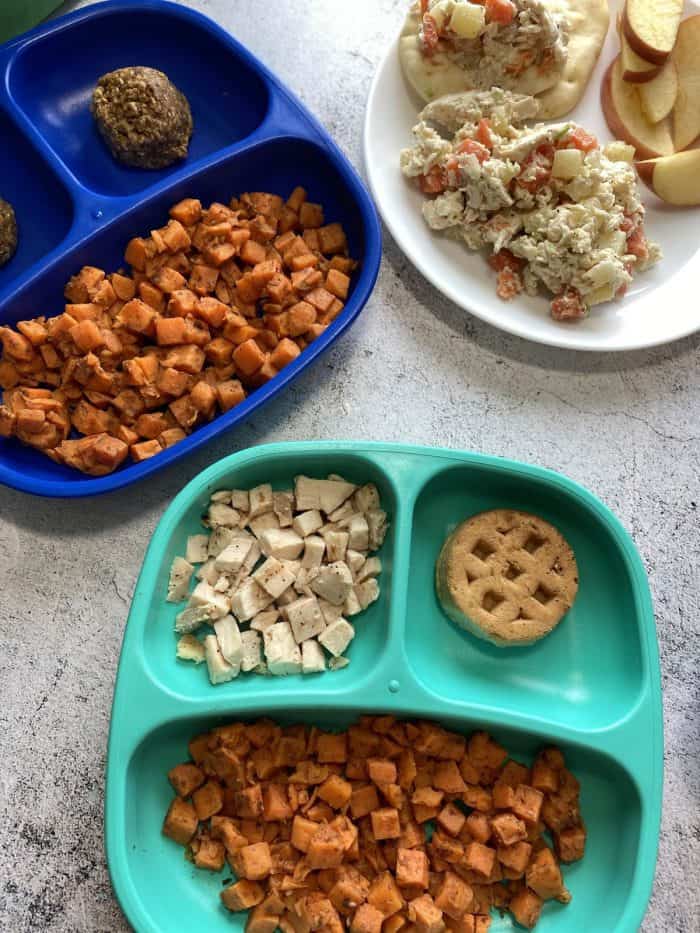 What makes Nurture Life different?
No Prep meals for kids – Nurture life meals are already prepared. No chopping, mixing, or cooking needed! This can be a life-saver when you are in a really busy season. Each meal can be easily reheated if needed. There are many meal options that can even be enjoyed cold! Because the meals are ready to go I don't have to clean up a big mess in the kitchen either.
Healthy, Nutritious Meals – Each meal is made from real, clean ingredients. There are never any artificial flavors or colors. Each meal is nutritionally balanced, and offers a FULL SERVING of veggies! Meals are made in a 100% NUT FREE facility.
Meals for all Ages – Nuture Life offers meals for all ages so you can order food for your whole family.
Kids Meals
Finger foods
Snacks
Finger Foods
Nurture Life offers meals for babies that are perfect for little hands. These meals are created specifically to be safe, easy to mash, and avoid choking. These meals are specifically for children aged 10-24 months.
I think that these finger food meals are a unique offering that I haven't seen in any other meal delivery kit. Each baby/finger food meal comes packaged perfectly. These are easy to send along to daycare, bring on a road trip, or have on hand for busy nights.
If you would like to try Nurture Life you can click the button below and use code "HEYDONNA" to save 50% off your first. 2boxes! You should be able to get 9 Kid meals for just around $40 with this discount. That's just under $4.50/meal for no-prep, healthy meals
Special Meals for Picky Eaters
Nurture Life offers meals specifically for the picky eater(s) in your family. Each meal is labeled so you can easily find meals that everyone will love.
Kid Meals
One thing I love about this service is that the toddler, kid, teen, and adult meals are all very similar. This way your younger children can eat the same meals just in smaller portions. Toddlers also have the option of finger foods, which is great if you have little ones who are still getting used to eating with a fork or spoon.
Quick Grab-and-Go Meals
Nurture Life's grab-and-go meals are similar to bento box lunches. Portable meals do not need to be warmed up so they are perfect for school lunch, daycare, and traveling. Our kid's favorites were the DIY pizza and chicken salad with Naan bread.
Our Favorite Nurture Life Meals
Our kids really love these meals! They usually bring a few to school each week for lunch and we usually save one meal for "date night" this way we know the kids are eating a healthy dinner while mom and dad go out or order in a meal for date night.
Below are some of our favorite meals:
Chicken Biryani – ** this is their favorite!

Lightly spiced roasted chicken, organic veggies & organic brown jasmine rice

Chicken & Vegetable Dumplings with Edamame

Antibiotic-free chicken & veggie dumplings tossed in sesame-soy for the perfect umami bite

Mac & Cheese with Butternut Squash

Creamy, 4-cheese sauce with organic butternut squash blended in over whole wheat noodles

Teriyaki Salmon with Rainbow Veggie Rice

Roasted salmon with housemade pineapple teriyaki sauce paired with a 4-veggie brown rice

Pot Roast with Mashed Potatoes

Slow-braised antibiotic-free beef & veggies served with creamy cauliflower potatoes

Chicken Salad with Apple Slices & Mini Flatbread portable meal

Chicken, organic carrots & potatoes mixed with creamy Greek yogurt & aioli dressing
Who could benefit from Nurture Life?
I think any busy parent would love these meals. I also think they are super handy for vacations and road trips. If you send your children to daycare and are required to send meals along, these would be perfect! Grandparents, nannies, and childcare providers would also benefit from having no-prep meals on hand.
Can you Freeze Nurture Life Meals?
Yes, you can also freeze meals for up to 90 days if you freeze them before the use-by date. I make sure to add meals to my planner so I remember to use them. Freezing Nurture Life Meals is a great way to plan ahead and always have meals on hand for last minute
How much does Nurture Life Cost?
Meals from Nurture life vary in price.

Meals from Nurture Life are priced From $7.99/item.
Nurture Life Discount Code:
Click HERE to save 50% off your first 2 boxes!
Ready to order?
Be sure to use this link to save you 50% off your first 2 boxes! You should be able to get 9 Kid meals for just around $40 with this discount. That's just under $4.50/meal for no-prep, healthy meals
While Nurture Life is a subscription service you can skip deliveries, pause or cancel your subscription at any time!
I'd love to hear if you try Nurture Life and what you think. Leave a comment below or send me a message on Instagram if you try it. Don't forget to add these meals to your weekly meal plan printables too!