Thanksgiving and Christmas seem to sneak up on us every year and they can become overwhelming if we haven't planned ahead. Getting ideas, lists, and recipes organized ahead of time is a great way to make sure you can really enjoy the holidays without all of the last-minute running around.
In this post, I'll share about my new Holiday Planner and how to use it to get organized and ready for the holidays.
Having your holiday notes, lists, and plans in one place will help you feel more prepared when the busy holiday season comes around.
The undated monthly calendar pages will allow you to look ahead and plan for holiday events, giving you a good overview of these busy months. The weekly pages are a great place to keep track of all of the tasks leading up to the holidays, so you don't let important things fall through the cracks.
Thanksgiving Planning
For Thanksgiving, there are several pages to help you get organized. First, you can get your schedule planned out on the printable weekly planning pages. You may want to include what day you need to go shopping, bake certain recipes, pick up orders, clean the house, etc.
Plan your Thanksgiving menu so you don't forget any important items. Keep track of your guests on the guest list so you know how many people you will be cooking for.
We do a lot of baking for Thanksgiving so I have a baking list that you can keep important recipe notes on. Write down all of the baking ingredients that you will need so you can shop ahead of time and make sure you have everything you need.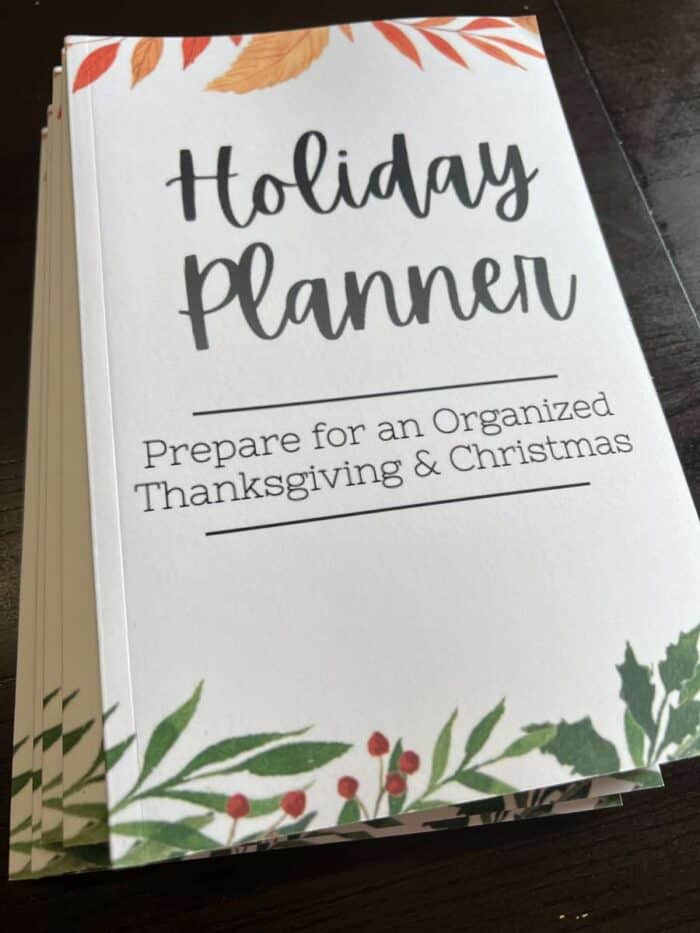 HOLIDAY PLANNER
NOW AVAILABLE ON AMAZON!
Don't want to print your Holiday Planner? You can now purchase a paperback copy directly from Amazon.
Printable Christmas Planner Pages
The Holiday Planner PDF has 40 printable pages to help you plan for Christmas. These pages are very detailed, including worksheets to help you plan your Christmas meals, holiday baking, and gift-giving.
There are pages to organize your Christmas cards, track online orders, and even plan out your Elf on a Shelf shenanigans.
In This Digital Planner You Will Receive:
Thanksgiving Planning Pages Include:
November Monthly Calendar November Weekly Pages
Thanksgiving Entertaining
Thanksgiving Guest List Thanksgiving Menu
Thanksgiving Baking & Cooking
Thanksgiving Cooking Timeline
Baking List
Baking Supplies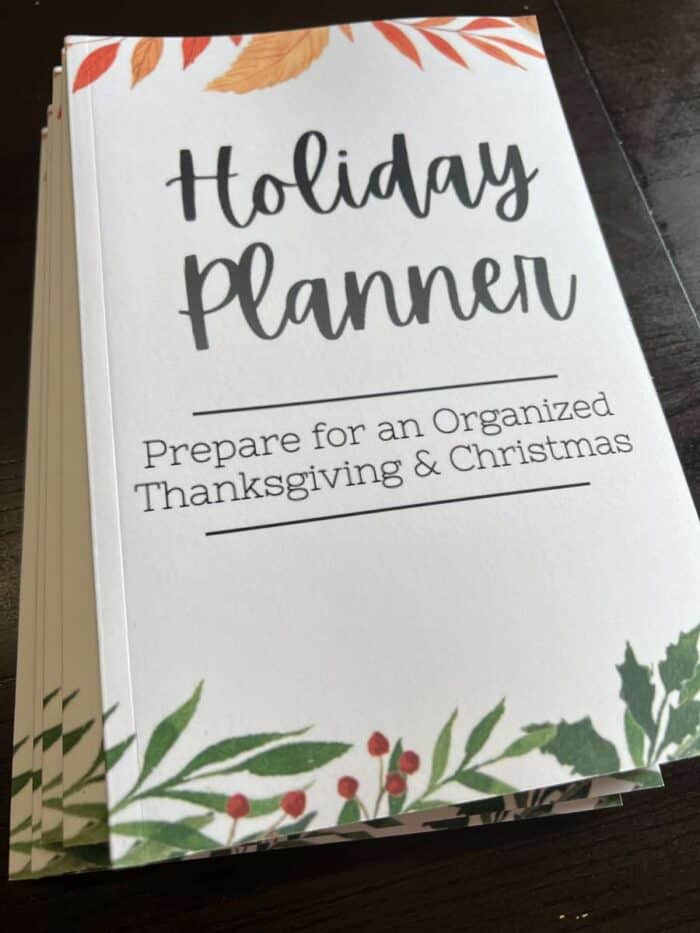 HOLIDAY PLANNER
NOW AVAILABLE ON AMAZON!
Don't want to print your Holiday Planner? You can now purchase a paperback copy directly from Amazon.
Christmas Planning Sheets Include:
December Undated Monthly Calendar
January Undated Monthly Calendar
December & January Undated Weekly Pages
Christmas Guests
Christmas Eve Menu
Christmas Menu
Baking List
Baking supplies
Cookie Baking List
Gift Giving List
Stocking Stuffer Ideas
Teacher Gifts
My Wish List
Neighbor Gifts
Online Order Tracker
Gifts to Make
Christmas Cards
Thank You Cards
Christmas Traditions
Movies & Music Books & Traditions
Events & Other Ideas
24 Days of Advent
Random Acts of Kindness
12 Days of Christmas
Elf on a Shelf Ideas
You can get the entire printable Holiday Planner. for only $8.
Because this is a digital product you can print as many copies of the worksheets and planning pages as you need, every year! I like to store my planner in a 3-ring binder that I can pull out every year and have all of my lists, recipes, and notes in one place.
You can use year-after-year! I hope you find this planner a helpful reference to help you get organized for the holidays.
Reminder: After you purchase you will receive an email with a link to download this digital product. This is a PDF file. You can print as many copies as you would like for your own personal use. This is not a printed book that will be sent to you in the mail.