As an Amazon Associate and member of other affiliate programs, I earn from qualifying purchases.
Last summer we surprised our kids with their first trip to Disney World in Florida! It required lots of planning and scheming to pull it off but we were able to successfully surprise them. We started planning for our trip in the winter and we knew right away that we wanted to trip to be a complete surprise.
I wanted the experience to be as magical as possible, just in case, it was our only trip to Disney. We came up with the idea to send the kids on a scavenger hunt with clues throughout the house, leading them to the final prize, their TRIP TO DISNEY! We decided to tell them minutes before leaving for our trip!
Keeping the surprise was pretty tough and we slipped up a few times but they didn't suspect anything. Here's how we pulled it off:
---
** If you're looking for more Disney posts, be sure to check out my new Disney Blog, Planning for Wonderland.
---
We had someone watch the kids on the day of our surprise Disney Trip
I wanted to have everything packed and ready to go before the scavenger hunt so I had to call in some help. The kids went to their grandparent's house for the day while I ran around finalizing things.
It was nice to have the house to myself, so I blasted some Disney Music while I finished packing all the bags. I loaded the car, cleaned out the fridge, cleaned up the house, and set up the scavenger hunt. Then we waited for the kids to arrive…
Our Surprise Disney Vacation Scavenger Hunt
To make the scavenger hunt I thought through the route first. Where did I want them to start and end the hunt? Where would the big reveal be? I didn't want it to go on and on so we kept it pretty simple. We decided to start eh scavenger hunt right when they got home from the grandparents' house.
---
More Disney Posts on HeyDonna and my new site: Planning for Wonderland:
---
Disney Vacation Scavenger Hunt Clues: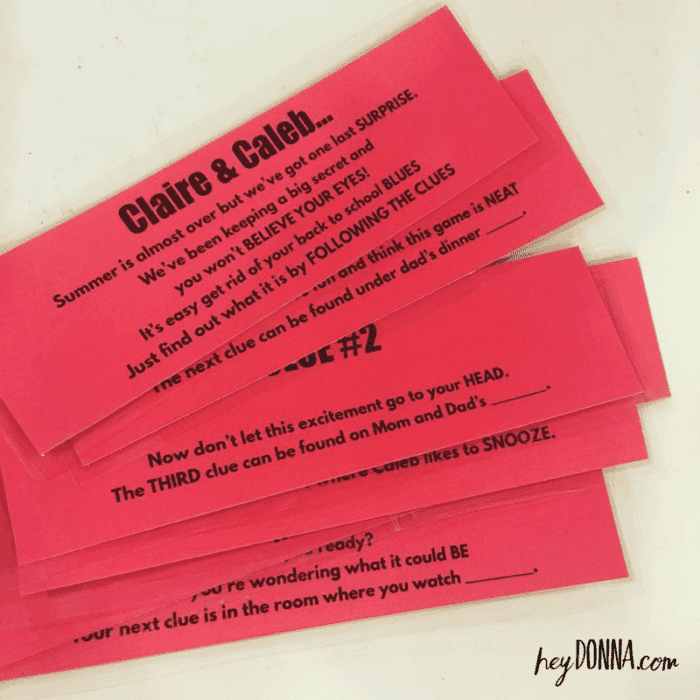 I created several clues for our Disney scavenger hunt. I wanted the kids to run throughout the house trying to figure it out. At one point, when running to her desk for the next clue, our daughter says, "I know what it is… It's a NOTEBOOK!" (Of course, she would be super excited about a notebook!).

Disney Scavenger Hunt Clue 1:
We think this game will be pretty neat
The next clue can be found under Dad's dinner ______. (seat)
Disney Scavenger Hunt Clue 2:
Now don't let this excitement go to your head.
The THIRD clue can be found on Mom and Dad's ________. (bed)
Disney Scavenger Hunt Clue 3:
We're almost done just a few more clues
Clue # 4 is where your brother likes to snooze. (brother's bed)
Disney Scavenger Hunt Clue 4:
This big surprise is really exciting
Your next clue is where sister does her writing…. (Sister's desk)
Disney Scavenger Hunt Clue 5:
Are you ready?
I bet you're wondering what it could be…
your next clue is in the room where you watch ______. (TV – Living room)
---
Surprise Disney Trip Scavenger Hunt Tips
For the final clue, I purchased 2 shirts for the kids from Etsy shop. Below is a link for another cute teeshirt option since the shop I bought our shirts at is out of business now.


They said, "I can't keep calm, I'm going to Disney World." I wrapped them along with our Disney MagicBand box and put them in the bottom of a big cardboard box.
I added some balloons with a sign that said "Calm Down…" (in hindsight it should have said, "Keep Calm")
The Reaction to Our Surprise Disney World Trip
Our son just stared at his sister while she opened her gift and waited for her reaction.
We had her read the shirt out loud.
Our daughter: "No… No… No… No…" she was in disbelief for a few minutes until our son started to celebrate.
The reactions were hilarious! Our daughter was seriously doubting us, she was completely shocked, especially when we told her that we were leaving RIGHT AWAY! I'm thrilled that we were able to keep the secret so long and truly surprise them. It was the perfect beginning of our magical vacation!
Make your surprise Disney trip scavenger hunt even more memorable
Autograph Book for Disney Characters


Disney Bags


Disney World Ears


Looking for fun Matching Disney Shirts?
Click the image below to visit PlanningForWonderland.com my site all about Disney to see my huge list. of over 150 Matching Family Disney Shirts.
We had an amazing trip and I'm happy to say it WILL NOT be our only trip to Walt Disney World. We've become "those people" we are fully Disney Addicted!
Resources for Your Disney World Trip
Check out my other site, PlanningforWonderland.com for more resources, printables, and guides for Disney.
Are You Driving to Disney?
See How We Survived our 20+ Hour Road Trip to Disney Click here to read all of our best tips for a Disney World Road Trip.