Using a template to block your schedule is an easy solution to help you stop wasting time and get things done! I've been using the time blocking method for years and it has made me more focused and productive. I use my time blocking templates to help me plan for a productive week. This post includes new Time Blocking Templates that you can get for FREE.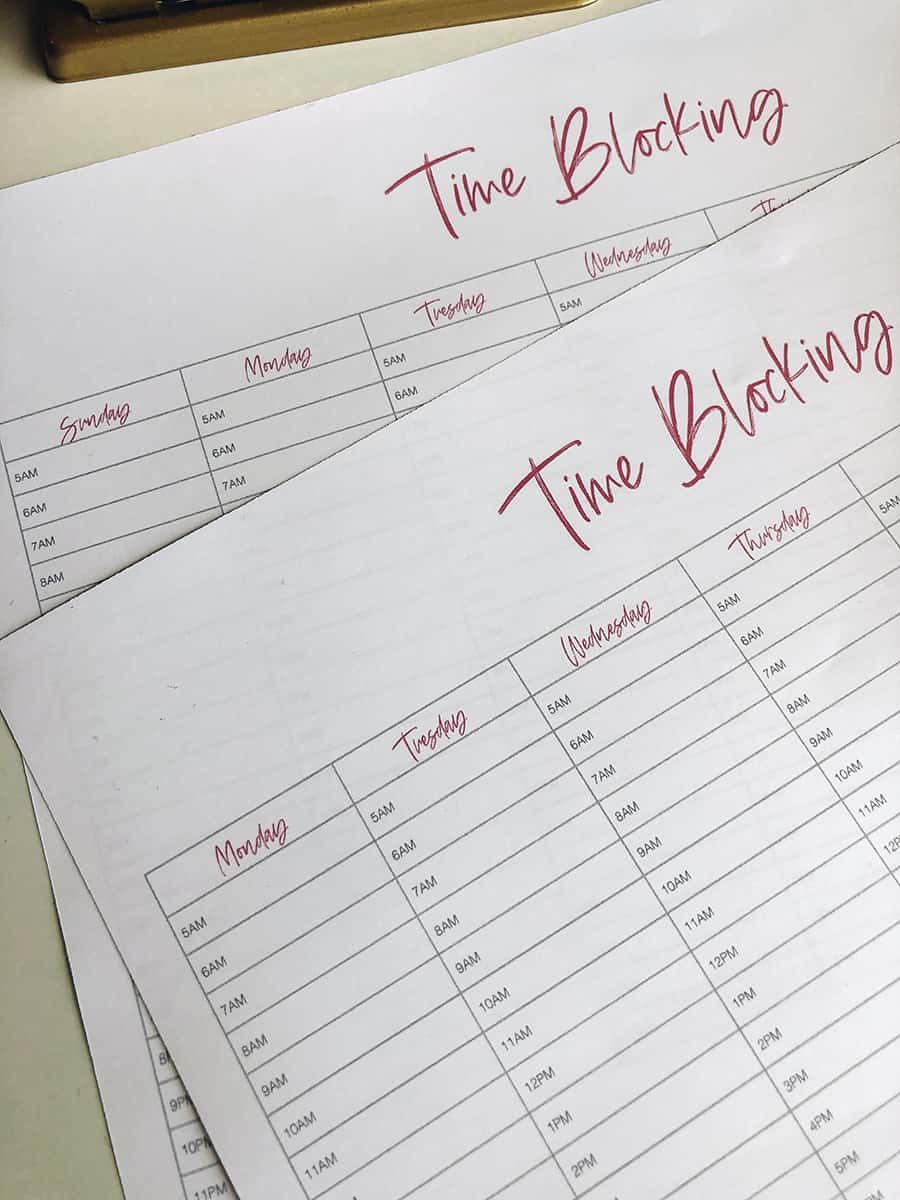 Paper-Based to Block Schedule Templates
Time Blocking is not a new concept. I've been singing the praises of using time-blocking schedules for years! If you're feeling overwhelmed and struggling to get through your to-do list you might want to consider trying Time Blocking for a few weeks and see how it helps.
There are many ways to block your time. I'm a little old-fashion and love paper and pen for planning my time, that's why I created these printables to help me block my schedule. I wanted a simple way to sketch out the plans for each week, but I wanted it to look nice and be functional at the same time.
After several years and several thousand readers requesting this printable (wow!) I'm finally redesigning the templates to hope to offer various styles and options. My hope is that you will find a template that you enjoy using and that it helps you to feel more focused. Today I'm sharing my newest template.
---
Looking for More Productivity Posts?
---
New Block Schedule Templates to Print
I'm excited to offer a new style of Time Blocking Templates for you. I plan to continue to add more styles, so if you have a suggestion or request just shoot me a message or leave a comment below and let me know!
Once you receive your files you can choose from a Sunday or Monday week start. I like to print several copies and I keep the blank calendars on a clipboard on my desk. For a while, I resized my calendars to fit inside my Inkwell Press disc-bound planner. It's important to keep it in front of you when you're working or place it somewhere that you will check often.
> Scroll to the bottom of this post to receive the new block schedule templates
My Original Templates (2015):
These are the original templates that I made back in 2015 – there are several different layouts that come in this file but I've found that the weekly layout is the most useful. This is still my most popular printable years later!
2017 – A Simple Time Blocking Calendar
I had a request for a more ink-friendly version of the worksheet so I created these in 2017. This file also includes several different layouts if you'd like to try a different style. This black and white time blocking template is great if you want a simple look that uses less ink.
---
2019 – New Look with Sunday and Monday Start Weekly Time Blocking Printable:
This new template is just a simple change in the font but I thought it was time for a more updated look. I kept it simple and only created the weekly layout. You will receive two files, a weekly calendar that starts on Sunday and one that starts on Monday.
GET THE 2019 TIME BLOCKING TEMPLATE
(pictured above)
I hope these worksheets help you to get started with Time Blocking. Find the right template for you, print out as many copies as you need, and jump right in!
You should receive your file(s) link via e-mail within the hour. Be sure to check your SPAM or Promotions folder if you're not finding the e-mail. If, after an hour, you have not received your link, please contact me and I'll help you figure out what happened.
The fine print:
For personal use only. Please do not reproduce or redistribute without written permission. Classroom use is permitted.