Our Visit to Put-In-Bay Island and this post were sponsored by www.SHORESandISLANDS.com in partnership with Miller's Ferry, E's Island Golf Carts and Perry's Cave Family Fun Center. We were provided with tickets to explore the island of Put-In-Bay. All opinions shared here are my own. (Spoiler: we loved it!) 
I love a good surprise and I love surprising our kids even more. We made last-minute plans over Memorial Day weekend to drive from Pennsylvania to visit Put-In-Bay Island with a special stop in Indiana to visit our dear friend Kadie who was home from Ireland for a few weeks. Our children adore Kadie and she's like family to us. We knew that we wanted to surprise the kids with this trip so we decided that it would be our first "Surprise Road Trip"  for the summer. They had no idea where we were going!
Surprise we're Going on a Road trip!
Our plan was to leave after the kid's last day of school and drive to Alyria, Ohio where we would be spending two nights at a Hampton Inn. It was our kids first ever stay in a hotel and they loved it! We had FREE full breakfasts included and they had a great pool that the kids loved. I slept like a baby!
We planned one full day in the Lake Erie area to relax and explore Put-in-Bay Island before we continued to Indiana. This day also gave us a much needed break in the long drive. In hindsight I wish we had spent more time in the Lake Erie area, we loved it!
Our Day Visiting Put-In-Bay Island
After breakfast on Saturday we headed right out to catch our ferry at Miller's Ferry across Lake Erie to Put-In-Bay island. Parking at Miller Ferry was clearly marked and easy to find which is always a bonus! The ferries came every 30 minutes which made it easy to catch a ferry and they weren't too crowded. We waited only a few minutes before boarding and found the boat to be large, super clean and had plenty of seating.
The morning was out lovely. It was warm and sunny. The children enjoyed looking out over the water enjoying the beautiful views as the ferry crossed Lake Erie to Put-In Bay.
Once on dry land again, we headed to E's Island Golf Carts where they were holding our golf cart rental. The kids were thrilled to see that we got the R2D2 Golf Cart for our adventure. The easiest way to get around the island is in a golf cart, we passed dozens of families traveling around in their little cart. Thank you to E's Island Golf Carts for the fun transportation. If you're headed to the island check out E's special deals before you rent your golf cart:
Rent your own golf cart at E's Golf Cart Rental at the top right of the Miller Ferry Lime Kiln Dock on Put-in-Bay. Just look for the red and blue E's Golf Carts sign. New for 2016: Reserve a two, four, six, or eight-passenger golf cart up to a day in advance online at esputinbaygolfcarts.com. Be sure to use the coupon code: save5. You may also find a $5 off day rental coupon at millerferry.com.
I have to say that riding around the island on a golf cart was a blast! We loved exploring the island and seeing all the sights in our own little battery powered ride.  I don't know who loved it more, us or the kids. Kevin insisted that it could have used a bit more horse power!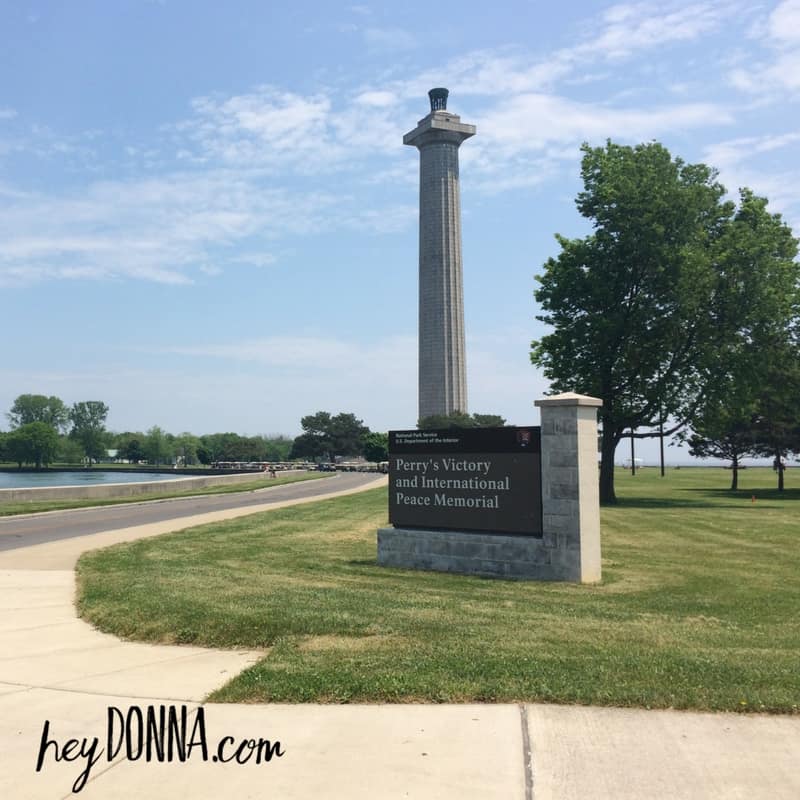 We headed out on our adventure, puttering 15 mph down the roads. Our first stop was Perry's Cave Fun Center. We headed straight to the The Butterfly House.  Before entering the room with the butterflies we looked through the large gift shop then entered the butterfly room.
Claire our 9 year old loves butterflies and we spent plenty of time in the butterfly house. The butterflies were beautiful and everywhere! Claire was determined to have a butterfly land on her. She hoped that her floral headband would entice one over.  She waited so patiently but didn't have any visitors. We still had a great time!
Also at Perry's Cave Family Fun Center is the opportunity to tour the Caverns. Our tour guide was young and made the tour fun, especially for the children. We searched for hidden "animals" in the rock formations. Our children loved the caverns and were amazed by the beauty that was underground. You can't miss Perry's Cave Family Fun Center – they have so much to do:
Perry's Cave
The Butterfly House
The War of 18 Holes Miniature Golf
The Rock Climbing wall
Fort Amaze'n giant maze
Gemstone Mining
2 Gift Shop
We were pleased to find a great play park for the children to enjoy. Put-In-Bay is truly a family-friendly vacation destination!
We finished off our day eating an amazing meal at Reel Bar. Guys, the food was so good! The manager even came out to check on us during our lunch. Next time we're at Put-In-Bay (and I hope that is soon!) we'll be right back at Reel Bar to grab a great meal!
We returned to our hotel for the night before heading west to Indiana to see the lovely Kadie. Along the way we made it a point to stop and collect pressed pennies. I think we've found a new family road trip tradition!
The Big Surprise in Indiana
Our children still had no idea where we were going. We pulled up to Kadie's house and I told them to knock on the door. At this point our daughter was not impressed, she just wanted to know what was going on. When Kadie answered the door everything changed the they erupted in joy!
This was the moment I hoped for. They were so happy (so was I!) to see Kadie. It had been a long year without her.

Our Surprise Road Trip was a huge success and we hope to continue to tradition in the future. We especially loved our time at Put-In-Bay Island and hope to make it back up there again. If you're planning a trip to Lake Erie be sure to stop by www.SHORESandISLANDS.com they have everything you need to plan your trip.
Have you experienced Lake Erie? I'd love to hear about your recent family adventures! Leave a comment below: