With the holidays right around the corner, we are preparing for the busy season of entertaining! We love to host family get-togethers and invite friends over to celebrate the season. We host a cookie exchange each year and usually have family visit from out-of-state. There are several things I like to do to create a warm and welcoming home for the holidays, all while keeping an eye on our energy bill.
This post was sponsored by PPL Electric Utilities. I am a member of the PPL Project Envolve Ambassador program. Opinions shared in my post are my own. This post also includes affiliate links.
Over the past month, we have been eagerly planning for the upcoming holidays. I really wanted to take the time to make our small home a warm and welcoming space for our family and friends. We've come up with several creative, yet simple ways to help our guests feel cozy and comfortable without jacking up the heat or breaking the bank.
This year, in an effort to create an energy efficient home, we've switched to nearly 100% LED lights, downsized our oven for most baking jobs, and found creative ways to use less energy but still have fun. With these few simple changes, you'll not only create a warm and welcoming environment, but you'll also save money and be more energy efficient.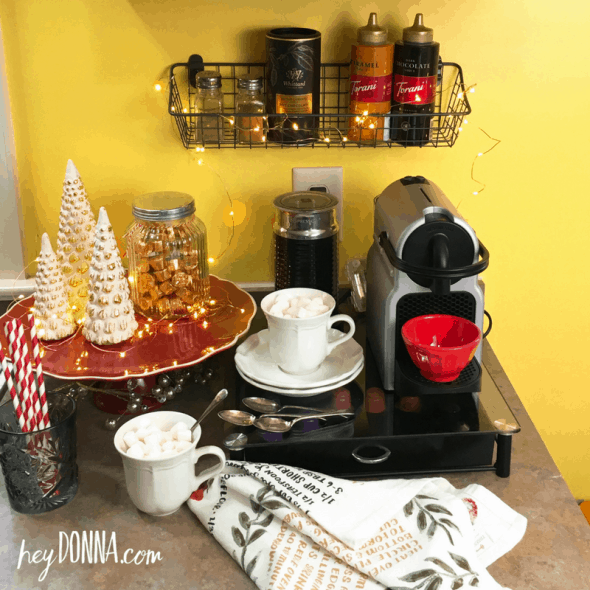 Set Up A Holiday Coffee Bar
One fast way to warm up your guests is a cup of hot coffee or hot chocolate. I love to create a fun space in our (tiny) kitchen just for our coffee bar. This was super easy to pull together, and you probably have everything you need already!
Here's a list of what I love to have on our coffee bar:
Our Nespresso Machine and Aeroccino – this makes the perfect espresso, latte, or cappuccino! The Aeroccino froths up milk quickly too. You can also save even more energy by opting for a battery powered milk frother.
Coffee
Assortment of tea
Mini marshmallows or better yet gourmet marshmallows
Tea/coffee spoons
Don't forget to add some cookies or biscotti for dunking
Use Lighting to Create a Festive Ambiance
With the shorter days, lighting is important when you're entertaining. We stick to LED light bulbs throughout our house and have saved hundreds over the years with this simple switch. This year I've added some LED under-cabinet lighting as a new touch! As renters, we can't make big renovations to our house, so I used my handy removable double-sided tape to install the lights. They create a nice, warm feel in the kitchen without turning on all of the lights, plus they give me plenty of extra light when I'm baking or cooking!
I've also been using our new smart plugs a lot lately – these are genius! Smart plugs are controlled via WIFI so you can control your outlets from anywhere. We plan on using one of these plugs for our Christmas tree this year too. It will be nice to be able to turn off the tree without crawling around on the floor!
My favorite new find this year are my new copper wire twinkle lights. These are a HUGE upgrade from my old Christmas lights, and I can use them anywhere because they are battery powered! They are so pretty too, with copper wire instead of bulky white or green cords! I tucked some into the coffee bar area, on a cupboard in my kitchen, and throughout the house to add a twinkle of light. Plus, there's a handy timer so I can turn them on once and then they will turn on and off for me each night. No more forgetting to unplug the lights!
Looking for more ways to use your LED holiday lights? Visit Project Envolve's Holiday Lights post for some fun and creative ways to decorate with energy efficient LED lights
Bake Up Some Delicious Desserts
It's not a party unless you have some decadent desserts to share with your guests. I love to use my Instant Pot when entertaining. It's so simple and fast, and I don't have to turn on the big oven to make something delicious. I've shared 12 dessert recipes you can make in your Instant Pot this week that might inspire you to ditch the oven and whip up a delicious dessert in half the time.
Have Warm Blankets and Pillows for Your Guests
It is always a nice touch to have plenty of comfortable pillows and throws in your living room to make your guests feel comfortable. You can use pillow covers to give your room a festive touch without over-spending on new pillows. I always like to have plenty of soft throws around so people can keep warm without having to crank up the heat (a win-win for our budget too!).
Add Some Festive Tunes
When I was growing up, we had a HUGE stereo system with 2 foot high speakers. Thankfully those days are behind us and we can get a great sound with small, wireless speakers. I remember listening to everything from Bach to Peter Gabriel during our family dinners, and I hope to pass these musical memories along to our children using our small wireless speaker. I love logging into Spotify and finding a fun Christmas music playlist to play throughout the house! Some of my favorites are listed below if you're looking for some festive tunes:
Hymns for Hipsters – Christmas Special
How do you create a warm and welcoming home for the holidays? Do you have any good tricks to save energy while entertaining? PPL Electric Utilities offers tools, tips, and energy efficiency programs to help customers save. Visit pplelectric.com/savings for more information. You can also find  more energy-saving ideas and inspiration on the PPL Electric Project Envolve Pinterest Board.