Breakfast is by far, my favorite meal of the day.  I love good eggs, pancakes, rich french toast and a side of crispy bacon.  I love the pastries and fruit, the yogurt and the granola.  I love breakfast.
A few years ago for our anniversary my husband recommended a place in Philadelphia that he had heard had great food.  I great little cafe in Italian market, it's called Sabrina's.  The first time we went to Sabrina's we were a bit skeptical.  The parking was a headache for us "Italian market newbies" and the neighborhood wasn't all that impressive.
Our first impressions were quickly replaced when we walked up to the quaint cafe.  There were tables outside, on the sidewalk with potted plants placed all around the tables to create an intimate space.  Inside we found a cute little cafe, huge chalkboard covering one wall cute mix-matched tables scattered around.  A real, old-school espresso machine, the kind where you really need to know what you're doing to make a good cup.  The cafe was busy, with mostly locals, which told me that this was a tried and true local favorite spot.
We sat along one wall.  Tables were close together, I could look over and see our neighbors food.  A plate of eggs, salsa black beans and some other yummy goodness poured on top.   The coffee looked hot and I could smell the pancakes!  We ordered, and ate, and ate, and ate.  Our coffees were refilled without needing to ask.  We sat and enjoyed each other's company.  It was perfect.
Oh, did I forget to mention the french toast?  Well take a look: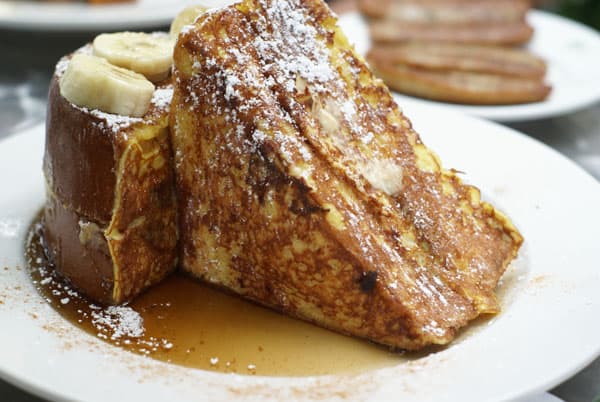 Yes, that is one serving! No, the word healthy was not on the menu.
Sabrina's has become one of our favorite places to visit whenever we are even near Philadelphia.  Many of us have a favorite restaurant, coffee shop, or special spot that we love to visit.  I'm sure we will enjoy many anniversaries at Sabrina's, eat more delicious french toast, and enjoy our favorite little spot for years to come!
Do you  have a "Favorite Little Spot"?  A Place that you love to visit alone, with your husband, your children, you mom or sister?